Physical Education
Key Stage 3 Core PE Curriculum Intent
Here at Meopham School the PE department is a passionate one, who place an emphasis on participation in physical activity for all abilities and ages. Within our team of staff we have a range of disciplines and experiences including teachers who have performed at the highest level, those who have worked, and still work, in the sports industry. We aim to pass this passion onto our students and this is why we offer such a broad curriculum and a range of morning and after school clubs.
Most importantly we aspire for students to get enjoyment from our subject and to use the knowledge learnt to live a healthy, happy and enjoyable future.
We put participation, teamwork and leadership skills at the heart of our teaching and learning. We believe in the importance of inclusion and sport for all. Our aim is for students to develop not only physically but also to master a variety of transferable skills that can be applied to many aspects of life and employment. These include confidence, communication, resilience and adaptability, all skills required for leadership roles.
Core PE explores a vast range of sports each year. Our aim in lessons is to fully engage ALL students to participate, enjoy and see the importance of leading a healthy active lifestyle.
Students working at RED are encouraged to perform basic skills in practice and attempt them in competitive game situations.
Students working at AMBER are encouraged to perform complex skills in practice and use both basic and complex skills in game situations.
Students working at GREEN are encouraged to perform complex skills in competitive game situations and be successful in supporting others around them.
Students working at BLUE are those with a special aptitude in a particular sport. These students are encouraged to create and lead activities throughout the lesson as well as supporting others. They will also take on roles such as team managers to analysing team performances during game situations and adapt their team play accordingly.
We encourage ALL students to build on their leadership with every lesson, therefore encouraging students to develop their confidence.
Core PE lessons are taught through the use of fun, active and competitive games which maintain participation and engagement.
Key Stage 3 - Core PE Overview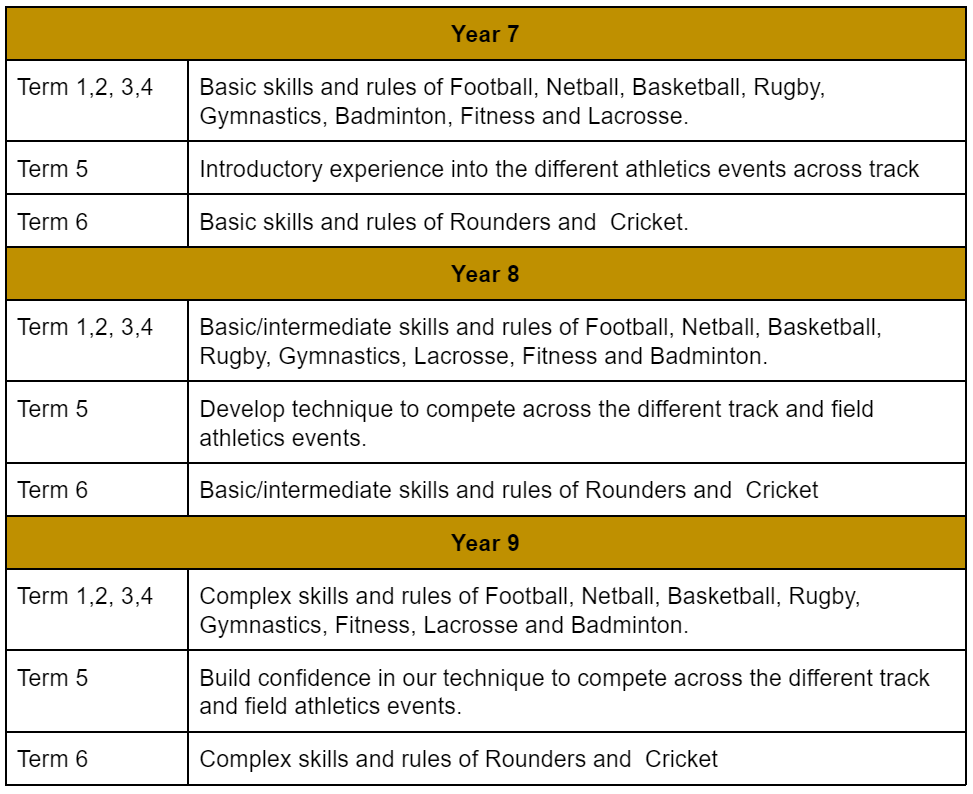 CLUBS Terms 1-4
More information will be provided by the PE department. Pupils should ask their PE teacher about clubs during their PE lessons.