Biology - A Level
This course is directed at students who wish to take their study of biology to the next level. The students who take this course will achieve a better understanding of the biological processes involved in different situations within science.
A Level Biology B (Advancing Biology) uses a context-based approach to enable students to develop their conceptual knowledge of essential biological topics in a variety of interesting and relevant settings. It helps students to develop relevant practical, mathematical and problem-solving skills as integrated aspects of their learning.
Course Content
The course content is delivered across five modules:
Module 1: Development of practical skills in biology
Module 2: Cells, chemicals for life, transport and gas exchange
Module 3: Cell division, development and disease control
Module 4: Energy, reproduction and populations
Module 5: Genetics, control and homeostasis
Year 1: Module 1, Module 2 & Module 3
Year 2: Module 1, Module 4 & Module 5
Module 1 is covered across the two years. Practical Skills are developed throughout all modules.
Assessment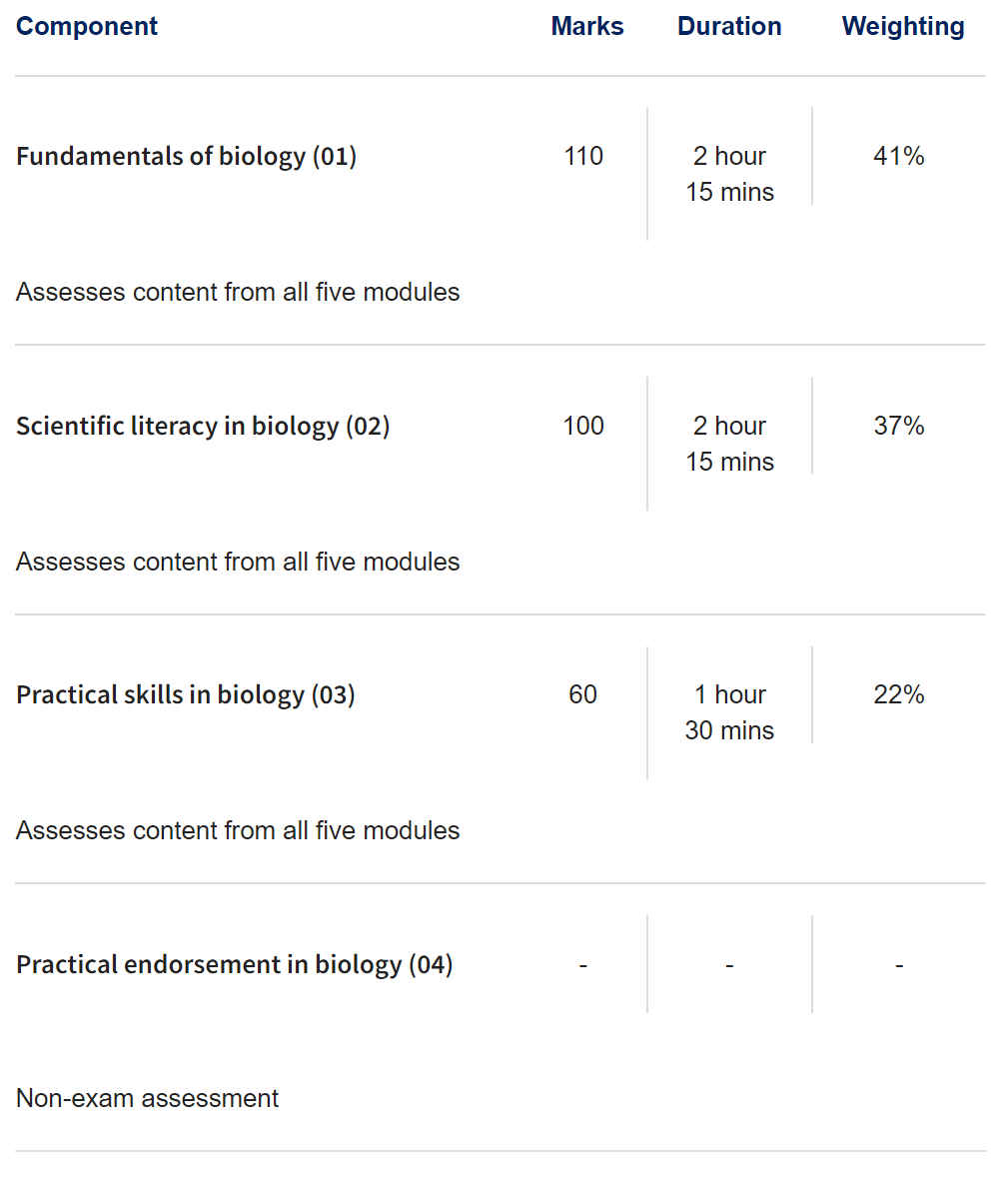 Students gain practical skills throughout the course. These are assessed in the written examinations and in the practical endorsement (component 04). Activities that could count towards the practical endorsement are indicated in the specification. These include: microscopy, dissection, electrophoresis, and investigation into the measurement of plant and animal responses.
By achieving practical endorsement, you will become competent in:
Following procedures.
Applying an investigative approach when using instruments and equipment.
Working safely.
Making and recording observations.
Researching, referencing and reporting.
There are a range of question types used throughout the assessment process, including: multiple choice, short answer and extended response questions.
Progression
After completing the A Level Biology course here at Meopham School there are a huge array of courses which you could study at University, such as;
Aberystwyth University - Biology and climate change
Anglia Ruskin University - Biomedical science (with placement year)
Hartpury University - Bioveterinary science
University of Kent - Human biology and behaviour with a year in professional practice
Lancaster University - Biology with Psychology
Newcastle University - Marine Biology
Univeristy of Nottingham - Cancer Sciences
Biology is a fundamental subject for careers in the science and health sectors but there are many other routes you can take with this degree
Jobs directly related to your degree include:
Academic researcher
Biotechnologist
Higher education lecturer
Marine biologist
Microbiologist
Nanotechnologist
Nature conservation officer
Pharmacologist
Research scientist (life sciences)
Scientific laboratory technician
Secondary school teacher
Soil scientist
Teaching laboratory technician
Jobs where your degree would be useful include:
Anatomical pathology technologist
Animal physiotherapist
Clinical scientist, cardiac sciences
Dental hygienist
Dental technician
Dental therapist
Dentist
Genetic counsellor
Health improvement practitioner
Medical science liaison
Neuroscientist
Physician associate
Prosthetist/orthotist
Science writer
Sustainability consultant
Veterinary nurse
Zoologist
Entry Requirements
In order to attend Meopham Sixth Form the minimum entry requirement is 5 level 4 GCSEs, including English and Maths.
To study Biology you are required to achieve level 5 or above in your GCSEs including English and mathematics. In addition, you will require at least a 66 in combined science qualifications or a level 6 in biology and level 5 in physics or chemistry in single science qualifications.