Baccalaureate
We have created the Meopham Baccalaureate of Education in response to the growing skills gap between employers and their requirements and the skill set of school leavers.
"In a rapidly-changing global business environment it is vital that all young people reach their full potential in order to open up doors of opportunity after Post 16 education."
A report released by the Chartered Institute of Management Accountants (CIMA) last month labelled UK school leavers as the worst in Europe for essential skills. Research conducted by CIMA states that 75 million young people worldwide are struggling to find work is one clear sign that the generational skills gap has become a problem that employers, educational establishments and parents alike, cannot ignore.
With this in mind the Meopham Baccalaureate of Education was formed. Students across the two years will take part in; workshops, conferences, work placements, leadership schemes and online courses interacting with a variety of both local and international companies. Meopham Sixth Form Students will be given the opportunity, through timetabled enrichment to work on soft skills such as communication, presenting, public speaking, professionalism and leadership.
At the end of their Meopham Education, students will be awarded with the Meopham Baccalaureate of Education containing certificates for all of their achievements, for example being a Meopham Sports Leader or from the University provider of any MOOC courses completed.
We want out students to stand out from the crowd, to enter the world of work knowing they have the skill set needed to achieve and become great leaders.
As part of the Baccalaureate students will partake in our comprehensive enrichment programme, both in and out of the classroom, covering these areas;
IT
Employment Skills
Extended Writing and Literacy
Leadership
Health & wellbeing
Government and politics
Public speaking and debating
Life skills
During timetabled Baccalaureate lessons students will be given the opportunity to complete accredited short courses to help strengthen not only their academic portfolio but to help our students to become aspirational young adults who are resilient and make positive contributions to their local community.
Short courses offer the perfect option for students who do not want to complete a full qualification that can take up to four years. These courses, which emphasize the fundamentals of each subject, can be completed within a few months.
Short courses are a great way to fill the gaps in your knowledge and give you a competitive edge when it comes to job promotions. As technology evolves systems, programs and practices change, making it critical for students and workers alike to refresh their skills and stay on top of the game.
Short courses can allow you to sample the wares before you buy. Gaining an insight into the type of knowledge required for a particular industry or field can save you the time and money of studying a full-time degree. Furthermore, they show future employers you are willing to work hard to stand out from the crowd.
Examples of the courses completed so far by some of our Year 12 Sixth Form Students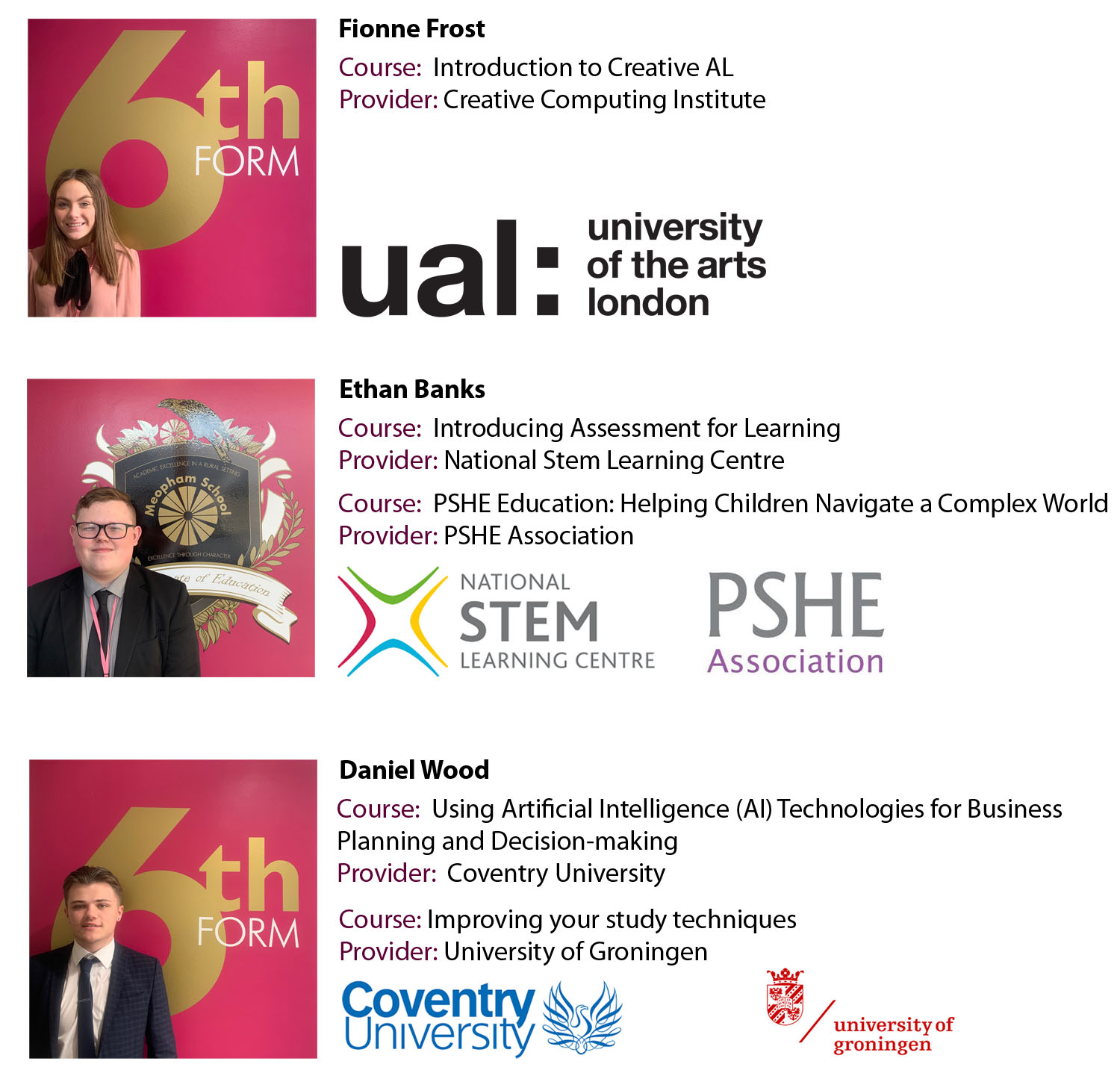 Student Baccalaureate Case Study
Ethan Banks in Year 12 is currently working hard within Sixth Form to enable him to achieve the grades and experience needed to gain entry to his first choice of University to become a secondary school teacher.
As such, many of the MOOC courses he has completed so far are focused within the education sector. So far, these are the courses he has completed;
Introducing Assessment for Learning - National Stem Learning Centre
PSHE Education: Helping Children Navigate a Complex World - PSHE Association
To support Ethan in his journey and to see in practice what he has thus far learnt from his MOOC courses, he took part in a learning walk with a member of the schools teaching and learning team. It was amazing to see Ethan being able to talk with confidence about assessment for learning with a member of staff. We are very proud of Ethan's hard work and determination, his drive and ambition to achieve is applaudable.
Here is a list of just a small selection of the MOOC course completed by students in Year 12 as part of the Meopham Baccalaureate of Education
Food and Mood: Improving Mental Health Through Diet and Nutrition - Deakin University
Using Artificial Intelligence (AI) Technologies for Business Planning and Decision-making - Coventry University
Risk management in the global economy - SOAS University of London
Mental skills training for sport and health - Manchester Metropolitan University
Modern Sculpture: An Introduction to Art History - University of York
Childhood adversity - UCL
Fraud Investigation: Making a Difference - Coventry University
Social media in Healthcare: Opportunities and Challenges - Taipei Medical University
Introduction to Forensic Science - Nanyang Technological University (Singapore)
If you have a question for us and would like a member of the Sixth Form Leadership team to contact you, please click here.